1. Use the following link to download the official English .img Office 2019 Professional Plus file from Microsoft, if you do not have it already installed.
https://officecdn.microsoft.com/pr/492350f6-3a01-4f97-b9c0-c7c6ddf67d60/media/en-us/ProPlus2019Retail.img
2. Open the Image File. Run the setup file and install office. Once installed, open any office app and it will ask for a Product License key and then for activation. When it asks for activation just select, "I want to activate the software by telephone"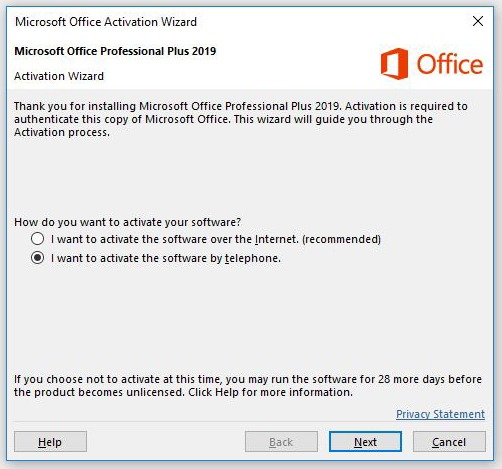 3. After clicking next, select your country in Step 1 and note down the Installation ID in Step 2. Now, go to https://getcid.info/ and enter your Installation ID with spaces. Select "Office 2016/2019" in the version dropdown and click on "GET" to get a Confirmation ID.
4. Enter the Confirmation ID in the office activation Window and your software will be permanently activated.